Enfront de l'ofensiva judicial de venjança i odi empresa per part del Govern Español i els partits constitucionalistes, contra la Llibertat de premsa, opinió i expressió i contra Catalunya i els seus ciutadans.
Hem decidit "censurar" l'idioma espanyol, progressivament dels centenars d'articles aquí publicats. Espanya s'allunya de l'objectiu de ser una veritable Democràcia, i retorna als seus orígens franquistes, eclesiàstics i imperialistes, que perduren després de la mort del dictador i entre els seus descendents. Sentim vergonya d'aquest país, que no respecta la Llibertat de pensament ni d'expressió.
Mig segle després de la seva mort i després de més de 80 anys des de l'aixecament militar contra els ciutadans, són excessius per tots els que aspirem a ser Lliures
   Facing the judicial offensive as revenge and hate undertaken by the Spanish government and parties constitutionalists, against Freedom of the press, opinion and expression and against Catalonia and its citizens. We have decided to "censor" the Spanish language, progressively from the hundreds of articles published here previously Spain moves away from the goal of being a true democracy, and returns to its francoist, ecclesiastical and imperialist origins, that remain after the death of the dictator and among its descendants.
We are ashamed of this country, where freedom of thought or expression is not respected.
Half a century after his death and after more than 80 years since the military coup, there are no significant  changes only makeup to cover the shame of the dictatorship to which a good part of political parties continue to idolize,
Like a god. Shameful fascist example…
Nuevo Porsche GT3 Cup S
---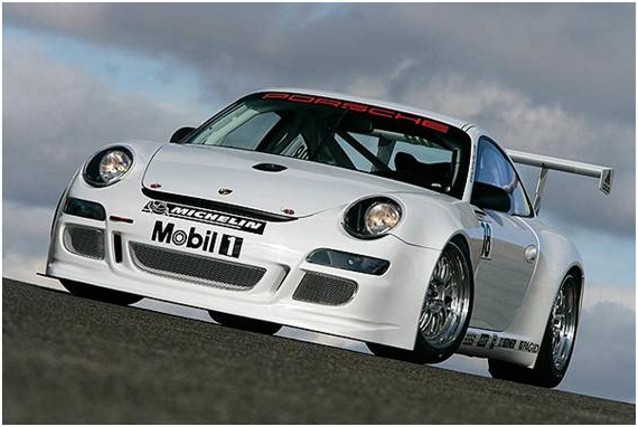 En el nuevo modelo, el motor boxer 3.6 es idéntico al propulsor usado en la
Porsche Supercup
y demás Campeonatos Internacionales.
La potencia del motor a visto aumentado su rendimiento en 20 cv. (ahora 440 a 8.000 rpm) fruto de una electrónica optimizada y un escape nuevo.
El chasis no se base en el anterior GT3, sino en el GT3 RS. Los pasos de rueda son más dimensionados, lo que permite montar medidas de llantas y gomas más grandes.
El alerón trasero es más ancho y va colocado más alto, lo que genera más soporte aerodinámico en la parte trasera.
Varios de los componentes de suspensión han sido tomados de la versión GT3 RSR que compite en los diversos campeonatos.
También los frenos han sido revisados a tenor de la mayor potencia. Los discos de freno traseros han visto aumentado su diámetro en 5 mm., siendo ahora de 355 mm.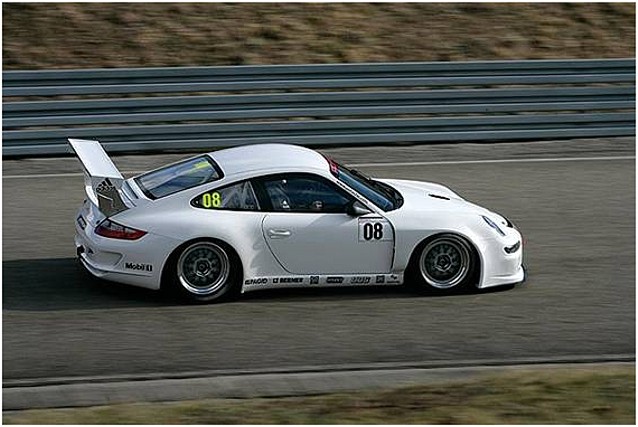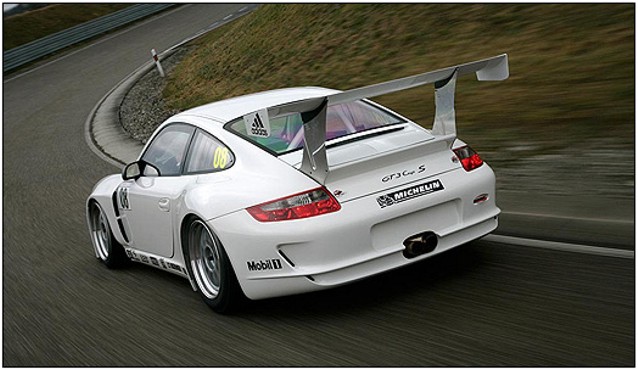 Esta nueva maravilla de Porsche, tiene un precio de 250.000 € a lo que hay que sumar el Iva nacional.
Con la aparición del nuevo
Porsche GT3 Cup S
la Marca ofrece un kit para potenciar los GT3 Cup 2007 a esta nueva versión GT3 Cup S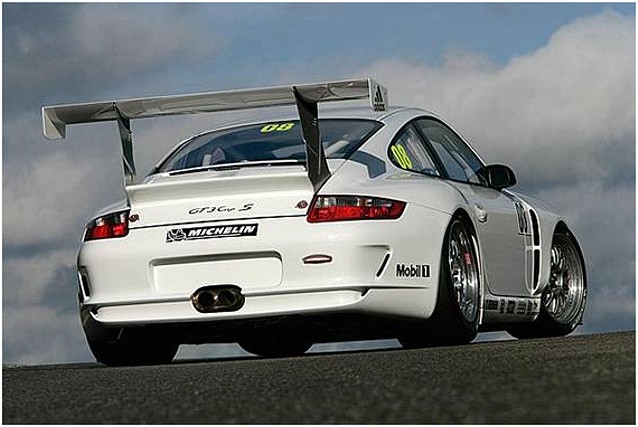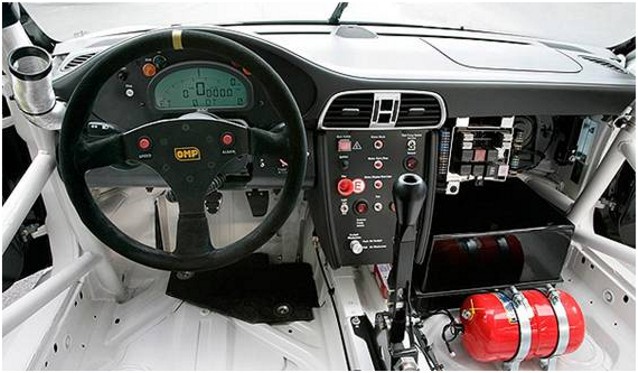 Estos son algunos detalles de esta nueva creación de Porsche Motorsport. Ahora os dejamos con sus características técnicas.
Technische Daten: Porsche GT3 Cup S
---
Wassergekühlter Sechszylinder-Boxermotor; 3.598 ccm; Hub 76,4 mm; Bohrung 99,98 mm Durchmesser; 440 PS (324 kW); max. Drehmoment 430 Nm; max. Drehzahl 8.400 U/min; Vierventiltechnik; Trockensumpfschmierung; Zweistufen-Resonanz-Ansaugverteiler; zentraler Lufteinlass; elektronisches Motormanagement MS 3.1; Kraftstoffeinspritzung (Multi-Point, sequenziell); Kraftstoffqualität: 98 ROZ Superplus bleifrei
.
Sechsgang-Getriebe mit sequenzieller Klauenschaltung; Druckölschmierung; Öl-Wasser- Wärmetauscher; Einmassen- Schwungrad; hydraulischer Zentralausrücker; 5,5-Zoll-Dreischeiben- Kohlefaserkupplung; Hinterachsantrieb; Sperrdifferenzial 40/60 Prozent
.
Selbsttragende Karosserie (Basis GT3 RS) aus feuerverzinktem Stahl; aerodynamisch optimierte Frontverkleidung mit Frontspoiler; Türen mit Scheibenrahmen aus CFK und Kunststoffspiegeln; aerodynamisch optimierter Unterboden im Bugbereich; verstellbarer Heckflügel; 100-Liter-Sicherheitstank; Luftheberanlage; eingeschweißter Überrollkäfig; Rennschalensitz (nur Fahrerseite) mit schwer entflammbarem Sitzbezugstoff; Sechspunkt- Sicherheitsgurt, angepasst für den Einsatz mit dem Kopf- und Nacken-Schutzsystem HANS (Head And Neck Support); elektrische Feuerlöschanlage.
Vorderachse: McPherson-Federbeinachse; Sachs-4-Wege- Gasdruck- Stoßdämpfer; doppelte Schraubenfedern (Haupt- und Zusatzfeder); sturzeinstellbare Vorderachslenker; beidseitig verstellbarer Schwertstabilisator; Servolenkung.
Hinterachse: Mehrlenker-Hinterachse mit starr aufgehängtem Achsträger; Sachs-4-Wege-Gasdruck- Stoßdämpfer; doppelte Schraubenfedern (Haupt- und Zusatzfeder); Hinterachsspurstange verstärkt und stufenlos einstellbar; beidseitig verstellbarer Schwertstabilisator.
Bremsanlage mit Waagebalken-Balance-Regulierung.
Vorderachse: Einteilige Sechskolben-Aluminium- Festsättel; innenbelüftet, 380 mm
Durchmesser; Rennbremsbeläge.
Hinterachse: Einteilige Vierkolben-Aluminium- Festsättel, innenbelüftet, 355 mm
Durchmesser; Rennbremsbeläge
Vorderachse: Dreiteilige BBS-Leichtmetallräder (10,5J x 18); Zentralverschluss.
Hinterachse: Dreiteilige BBS-Leichtmetallräder (12J x 18); Zentralverschluss.
Motec Display mit integrierter Datenaufzeichnung; Batterie: 12 Volt, 50 Ah, 140 Ah Generator.
Rund 1.170 Kilogramm.
---