Importantes mejoras para el modelo 2008
---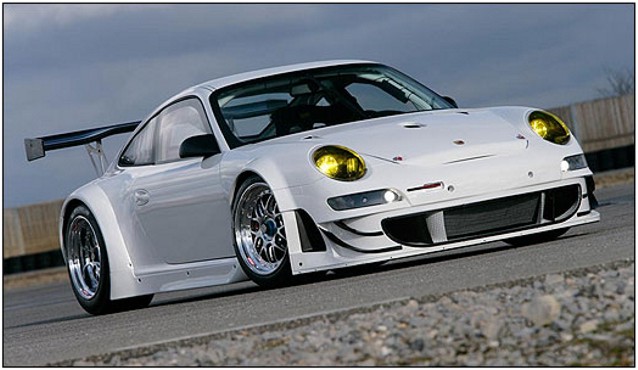 With extensive modifications the Porsche GT3 RSR goes into new model year. The strongest racing car on basis Porsche 911, which could celebrate class victories with the 24-Stunden-Rennen in Le Mans and Spa as well as the total victory in the past season among other things at the 24 hours of Nuerburgring, goes in the class GT2 when international long-distance running to the start. Clearest registration number of the new GT3 RSR is the aerodynamically strongly improved front portion.
Most innovations are however under the weight-optimized body.
Beside the well visible auxiliary spoilers at the front apron, the Flicks in such a way specified, an optimized air circulation ensures also newly arranged lateral air discharge openings for more drift with air resistance reduced at the same time. The tail range including tail wing was taken over by the predecessor model. Extensive changes at the chassis kinetics provide for clearly increased mechanical Grip.
Also the adjustment possibilities at the chassis were extended.
The 3,8-Liter-Boxermotor of the GT3 RSR remained unchanged up to easy detail improvements. It carries 465 HP out (342 KW) when 8.000 revolutions per minute and develops a maximum torque of 430 Nm when 7.250 revolutions per minute. The speed limiter of the efficient six-cylinder begins with 9.400 crankshaft revolutions.

A quantity of know-how from that sport prototypes R-S Spyder is in the completely new transmission of the GT3 RSR. That by Porsche engineers developed of sequenzielle six-course impulses is substantially easier than the switching box blocked in the predecessor and exhibits a clearly reduced internal friction. The flatter angle to the half axles permits a larger clearance to the teams during the chassis attitude.

Beside the GT3 Cup and the GT3 Cup S the GT3 RSR is the third running vehicle on basis Porsche 911, which is offered by Porsche engine haven. That, apart from exclusive sport prototypes R-S Spyder, fastest and strongest long-distance racers out white oh is produced in an edition by approximately 35 vehicles and delivered immediately to the customer teams in all world. The price for the GT3 RSR amounts to 349,800 euro plus the country-specific value added tax. 
Pictorial material © Dr. Engineer h.c. F. Porsche AG
---
Technical data: Porsche GT3 RSR
Water-cooled six cylinder double-piston engine; 3.795 ccm; Stroke 76.4 mm; Drilling 102.7 mm in diameter; 465 HP (342 KW) with 8.000 U/min; max. torque 430 Nm with 7.250 U/min; Amount of air limiter 2x 29.5 mm; Maximum speed 9,400 U/min; Four-valve technology; Dry sump lubrication; Single butterfly valve plant; central air intake; electronic engine management ms 4.0; Fuel injection; Fuel quality: 98 RON superplus lead free.
Six-course transmission with sequenzieller claw circuit; Oil water heat exchanger; A mass flywheel; hydraulic Zentralausruecker; Three-disk carbon fiber clutch; Rear-axle drive; Sperrdifferenzial 45/65 per cent
.
Self-supporting body (basis GT3 R-S) from hot-dip galvanized steel; aerodynamically optimized front lining with front spoiler; aerodynamically optimized Unterboden within the nose range; adjustable tail wing; 90-Liter safety tank with high-speed filling system; Air jack plant; welded ueberrollkaefig; Running bowl seat (only driver's side) with with difficulty inflammable covering material; Point of six seat belt, adapted for the employment with the head and neck protective system HANS (Head and Neck support); electrical fire-extinguishing system.
Front axle: MP ago on shock absorbing axle; Sachs-4-Wege gas pressure shock absorber; doubled coil springs (main and auxiliary spring); fall-adjustable front axle steering wheels; reciprocally adjustable sword stabilizer; Power steering.
Rear axle: Multi-steering wheel rear axle with rigidly hung up oh carrier; Sachs-4-Wege gas pressure shock absorber; doubled coil springs (main and auxiliary spring); Rear axle tie rod strengthens and steplessly adjustable; reciprocally adjustable sword stabilizer.
Total chassis steplessly adjustable (height, fall, trace).
Brake assembly with scale beam balance adjustment.
Front axle: One-piece six-piston aluminum fixed saddles; ventilated, 380 mm in diameter; Running brake linings.
Rear axle: One-piece four-piston aluminum fixed saddles, ventilates, 355 mm in diameter; Running brake linings.
Front axle: Three-part BBS light alloy wheels (11J x 18 ET 34); Central catch.
Rear axle: Three-part BBS light alloy wheels (13J x 18 ET 12.5); Central catch.
Motec display with integrated data recording; Adjustable traction control; Battery: 12 V, 50 ah, 140 ah generator.
Approximately 1,225 kilograms after A.C.O regulation, 1,200 kilograms after FIA regulation.
---
Nuestro agradecimiento a

  por su colaboración en este proyecto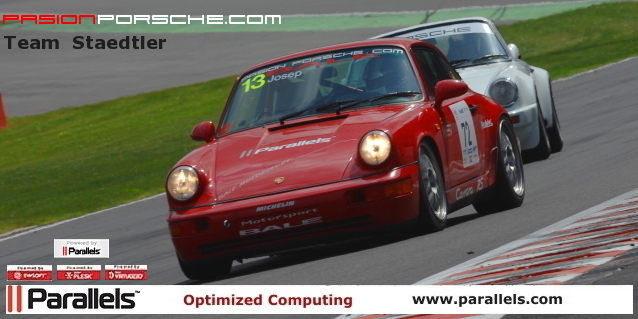 ---