Debut Porsche 997 GT3 RSR Manthey (24 H. de Spa)
---
El pasado 29-30 de Julio, hacía su debut a modo de ensayo, el Porsche 997 GT3 RSR del Equipo Manthey Racing en las duras 24 Horas de Spa 
Como podéis ver por las datos técnicos, el RSR va propulsado por un 3.8 que rinde 485 cv. a 8.500 rpm. para un peso de 1.225 kg. conforma las normas FIA para la categoría.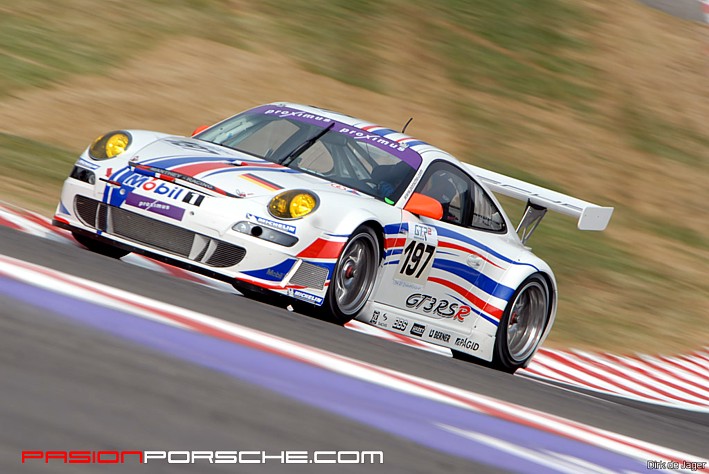 Antes de celebrarse esta edición de las 24 Horas de Spa, esperábamos ver a los 2 Porsche 997 RSR de Manthey Racing, dominar la categoría G2, e incluso luchar por la clasificación general.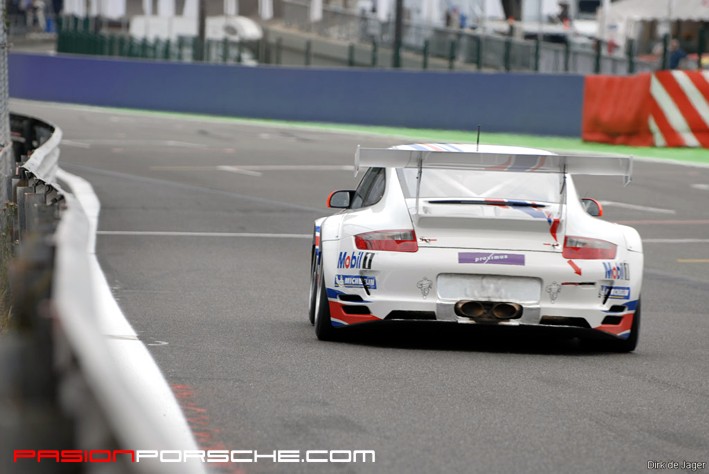 Tras una carrera muy dura, se cumplían parcialmente los objetivos y el 997 de Lucas Luhr, Sascha Maassen y Marcel Tiemann dominaba el grupo G2 terminando en 14ª posición de la general, seis vueltas por delante del otro 997 RSR de Marc Lieb, Timo Bernhard y Pedro Lamy.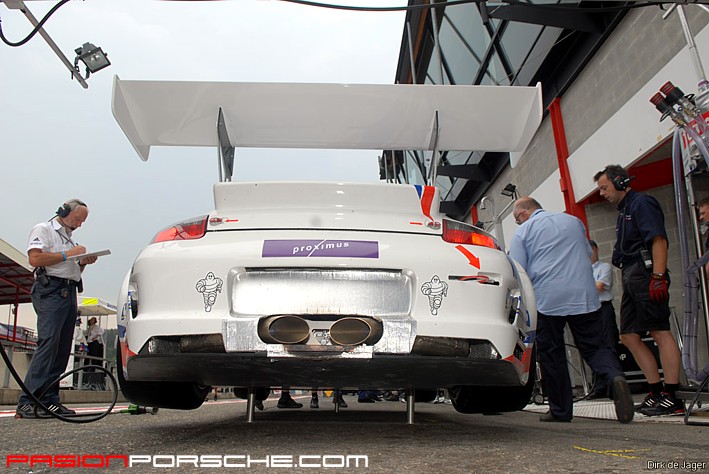 Según palabras de Lucas Luhr, "todavía queda trabajo por hacer en el nuevo 997 RSR, pero estas 24 Horas de Spa, eran el escenario ideal para la prueba y puesta a punto del coche, pudiendo rodar sin la presión de los resultados y puntos del campeonato.
Ahora sabemos lo que tenemos que hacer para seguir mejorando el coche
".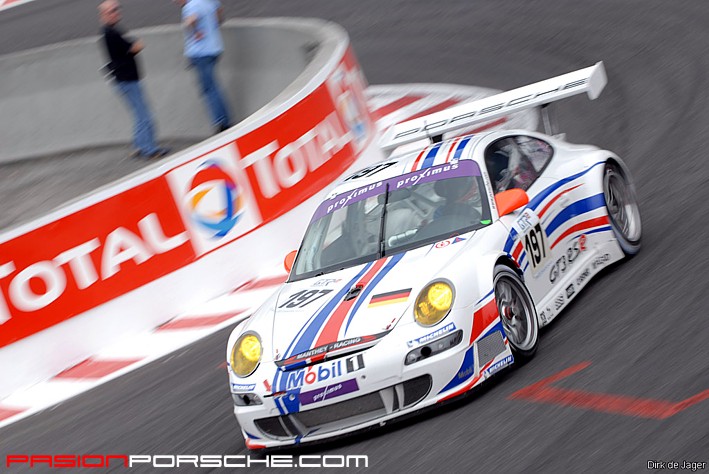 Según Sascha Maassen, "el coche fue rápido en la calificación y cumplió el objetivo de estar delante de los Ferrari, acumulamos experiencia y sabemos en la dirección que hay que trabajar".

Descripción técnica del Porsche 997 GT3 RSR
---
Concept
Single-seater, near-standard racing sportscar

Basis: 911 GT3 RS

Homologation: Spa 24 Hours Group 2 (national championship), respectively spring 2007 (A.C.O., IMSA, FIA GT)

Suitable for competition in international GT events

Not approved for road use
Bodywork
Coupé, monocoque structure

Basis 911 GT3 RS

Lightweight, all-steel bodyshell hot-galvanised on both sides

Front apron, rear bumper and sideskirts made of carbon-fibre, aerodynamically optimised

Rear-lid, panelling and doors made of carbon-fibre

Extended wheel arches made of carbon-fibre

Side and rear windows made of plastic

Adjustable rear wing made of carbon-fibre

Flat underbody complying with A.C.O. and FIA regulations

Welded-in safety cage (30 metres of seamless steel tubing)

Racing bucket seat with fire retardant upholstery

Six-point seat harness, HANS compatible

Electric fire extinguishing system

Air-jack system
Aerodynamics
Adjustable through rear wing and ride height
Engine
Six-cylinder, water-cooled boxer engine, aluminium engine block and cylinder heads, four valves per cylinder, oil cooler with water-oil heat-exchanger, variable valve timing (VarioCam), hydraulic valve-play compensation, intake system with two restrictors each 30.3 mm for A.C.O. 1,225 kg-version, single-throttle butterfly valve, dry-sump lubrication with separate oil tank, oil and cooling water refilling system, exhaust gas treatment: two Metalits with PE Design™, stereo lambda sensor-control, electronic engine management system MS 4.0, six coil electronic ignition, sequential multi-point injection
Bore 102.7 mm Ø

Stroke 76.4 mm

Displacement 3,795 cc

Compression ca. 14.5:1

Max. power 357 kW (485 hp) at 8,500 rpm

Max. torque 435 Nm at 7,250 rpm

Power output 99.2 kW per litre

Max. revs 9,000 rpm

Fuel type RON 98 to RON 102
Exhaust system in the basis version following A.C.O.-spec: Tubular headers with muffler system (113 dB pass-by)
Alternative exhaust systems available:
Tubular headers following FIA regulations (110 dB standing noise)

Tubular headers with open exhaust

Tubular headers with exhaust incl. catalytic converters homologated for DMSB and Spa 24 Hours Belcar category
Electrical System
12 Volt

Motec display with data recording

Battery capacity 45 A-h

Alternator 140 A-h
Optional:
Bosch Memory Card

Traction control
Power Train
Transmission via dual constant velocity joint driveshafts on the rear axle Manual sequential six-speed dog type transmission, "inline" shift mechanism Sensor controlled ignition interruption

Oil-water heat-exchanger

Single-mass flywheel with triple-disc fibre race clutch

Clutch diameter 4.5 inches (114.3 mm)

Limited slip differential 40/60 percent (or alternative)
Suspension
Front axle: Strut type suspension (optimised by Porsche) with unibal joints and corresponding modifications of kinematics, independent wheel uspension
on transverse control arms, longitudinal arms and spring struts, double coil springs (master and auxiliary) adjustable in different positions, ZF-Sachs as pressure dampers (Through Rod System), separated track control arms, adjustable front blade-type roll bar, wheel mounts with double damper clamps, electrically-powered power steering Rear axle: Multilink rear suspension with unibal joints and corresponding modifications of kinematics, independent wheel suspension (five arms), rigid suspended subframe, double coil springs (master and auxiliary) adjustable in different positions, ZF-Sachs gas pressure dampers (Through Rod System), separated track control arms, rear axle tie rod strengthened and continuously adjustable, adjustable blade-type roll bar
Adjustable geometry suspension (height, camber, track)
Brakes
Two-circuit brake system with front/rear circuit separation and brake-power distribution by bias bar system, no ABS, six aluminium monoblock callipers at the front, four-piston aluminium monoblock callipers at the rear, cross-drilled, internally vented brake discs measuring 380 x 35 mm diameter/width at the front and 355 x 32 mm diameter/width at the rear
Rims/Wheels
Front axle: 11J with Michelin slicks 27/65-18

Rear axle: 13 J with Michelin slicks 31/71-18
Weight
1,225 kg following A.C.O and FIA GT regulations

Power-to-weight ratio: 3.3 kg/kW (2.5 kg/hp)
Measurements
Length 4,439 mm +/- 5 mm

Width 1,957 mm +/- 5 mm

Height maximum 1,250 mm

Wheel base 2,373 mm
Track width
Front 1,565 mm (3.5 degree camber)

Rear 1,620 mm (3.0 degree camber)
Tank capacity 100-litre safety fuel cell with quick refuelling system
Quantity for 2007 35
Review 2001 to 2004: the 911 GT3 R/RS/RSR at the Spa 24 Hours
En estas imágenes podéis ver a los dos RSR de Manthey abordando el Raidillón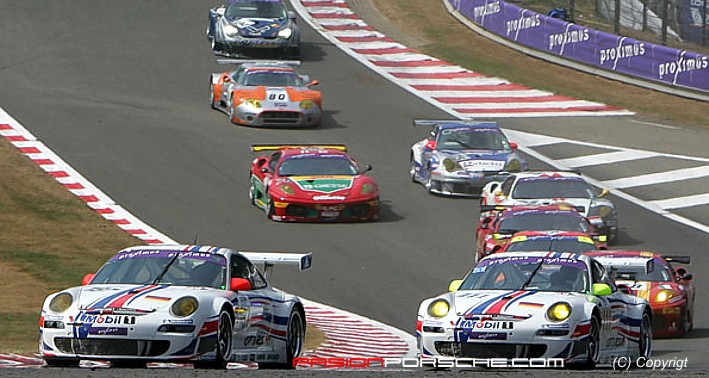 … en uno de los repostajes …….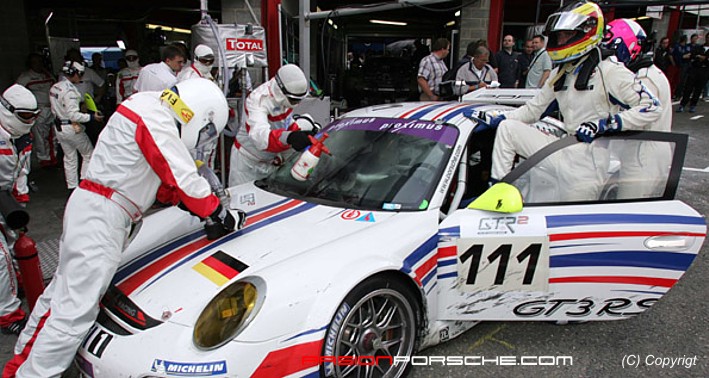 … los dos coches en la mágica noche de las 24 horas de Spa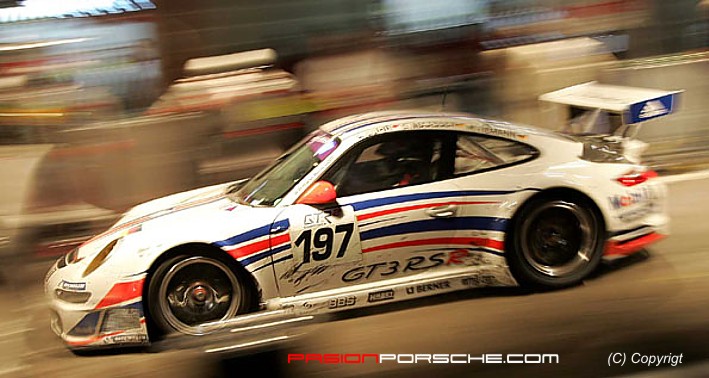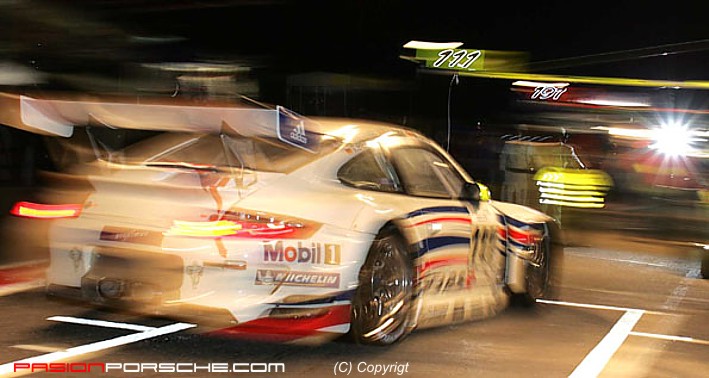 … el habitáculo del piloto ………..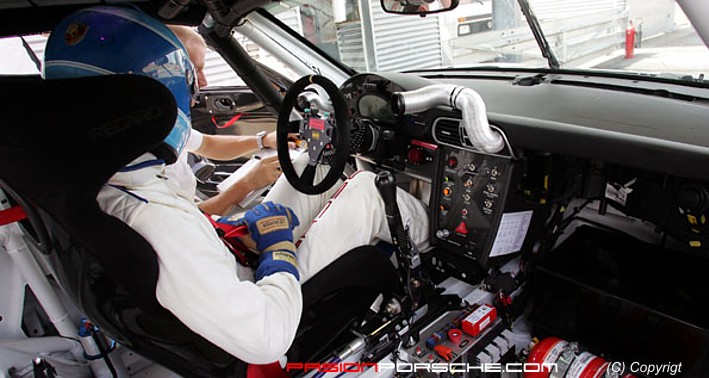 Precioso el aspecto del GT3 RSR de Manthey ……..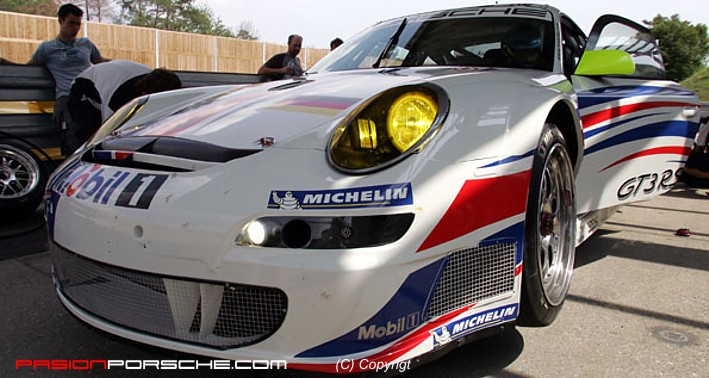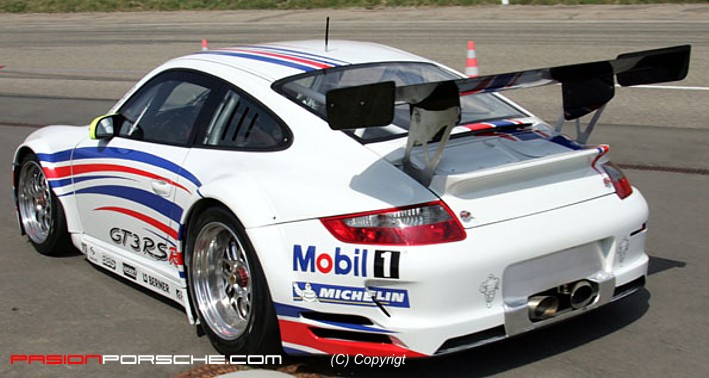 ---